BioGranoro CuoreMio Pasta
rich in fibre and barley beta-glucans
100% from Italian Organic Farming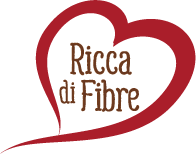 Wheat and Barley semolina pasta
with beta-glucans that reduce cholesterol*
BioGranoro CuoreMio pasta is obtained with 100% raw materials from Italian Organic Farming: a mixture of durum wheat semolina of the highest quality and flour of a particular variety of barley, "Barley Beta", with a high content of soluble fibre Beta-glucans, which help reduce cholesterol.
CuoreMio Bio pasta has all the characteristics of the usual Granoro pasta, the intense yellow colour, the aroma of wheat, the right thickness, firmness and elasticity that make it a high-quality pasta. It is produced in classic formats ideal for many tasty recipes of the Mediterranean tradition.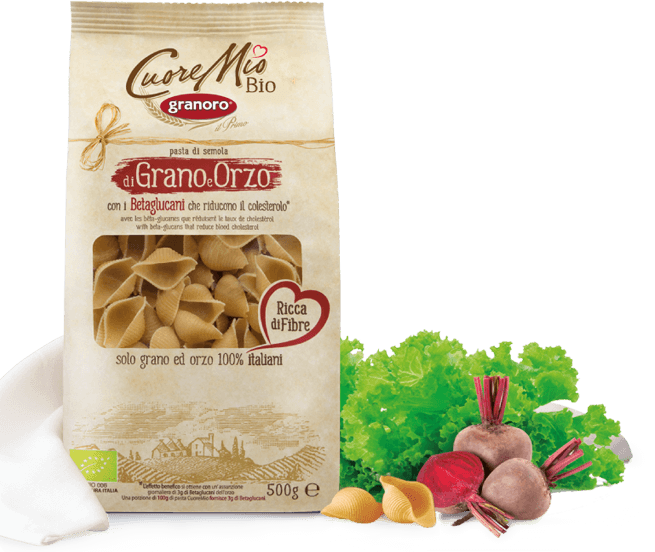 Cuoremio Organic Pasta
an ally of our health
BioGranoro Cuoremio is a pasta obtained from 100% raw materials from Italian Organic Farming, mixing high-quality durum wheat semolina with a flour rich in Beta-glucans.
Barley beta-glucans are soluble fibres that perform numerous beneficial actions for the body, regulating the absorption of some nutrients including sugars and fats.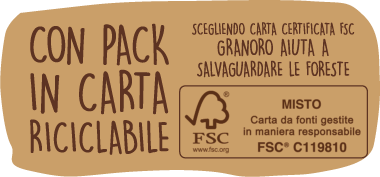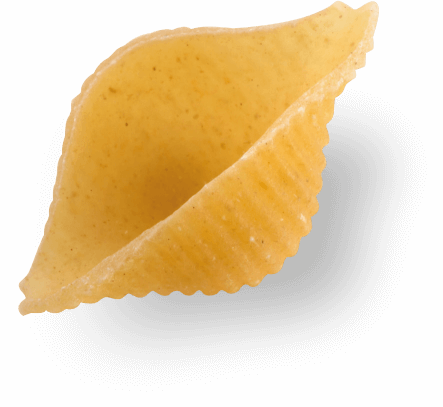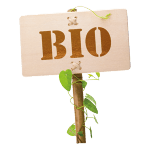 WITH ORGANIC DURUM WHEAT SEMOLINA
AND BARLEY FLOUR
grown in Italy without the use
of pesticides and synthetic chemicals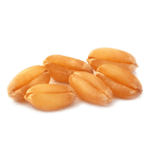 RICH IN FIBRES
a portion of 100g of pasta provides
7.5g of total fibre representing
about 30% of the daily requirement
and it helps regulate various
physiological functions of the body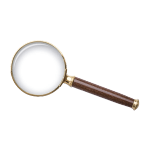 CONTROLLED PRODUCTION CHAIN
and certified from the field to the table
by the Institute
for Ethical and Environmental Certification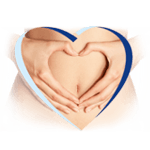 WITH BETA-GLUCANS
which reduce cholesterol in the blood; they donate a feeling of satiety;
They are useful in controlling
body weight
REDUCES LDL CHOLESTEROL
the cause-and-effect relationship between the consumption of the beta-glucans of barley and the reduction of bad cholesterol is scientifically proven
How Beta-glucans work
The barley Beta-glucans contained in BioGranoro CuoreMio pasta have various positive effects on our health.
Their characteristic is to absorb water, forming a gelatinous substance in the gastrointestinal tract that increases the volume of the food ingested, causing a particular dilution of the nutrients that are absorbed over a longer period of time.
Therefore, the Beta-glucans:
increase the elimination of bile acids, resulting in the consequent reduction in the absorption and endogenous production of cholesterol;
reduce the absorption of fats by lowering blood cholesterol, especially the "bad" LDL;
reduce the absorption of sugars by reducing the glycemic peaks after a meal;
slow down gastric emptying, causing a feeling of fullness;
• they are helpful in controlling body weight.
It has been scientifically proven that there is a cause-effect relationship between the consumption of barley beta-glucans and the reduction of LDL (low-density lipoproteins) cholesterol in the blood, commonly known as "bad cholesterol").
It is important to know that: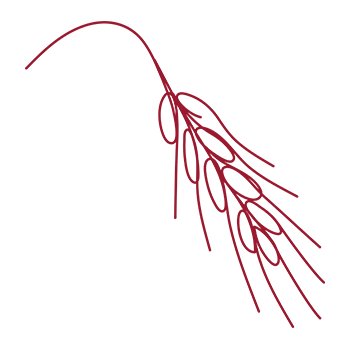 THE BENEFICIAL EFFECT IS OBTAINED WITH A DAILY INTAKE OF 3 g OF BARLEY BETA-GLUCANS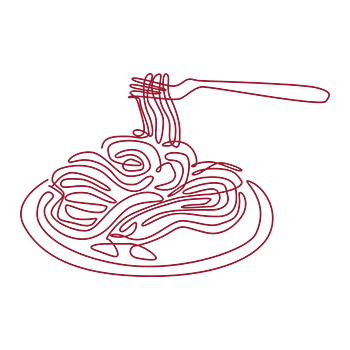 A 100-gram PORTION OF ORGANIC CUORE MIO PASTA PROVIDES 3 g OF BETA-GLUCANS WHICH REPRESENTS THE DAILY AMOUNT INDICATED FOR REDUCING CHOLESTEROL IN THE BLOOD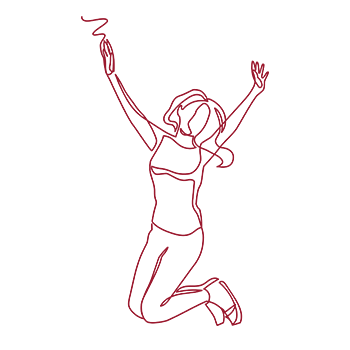 A HEALTHY LIFESTYLE AND REGULAR PHYSICAL ACTIVITY ARE THE MOST IMPORTANT ALLIES IN KEEPING YOUR HEART HEALTHY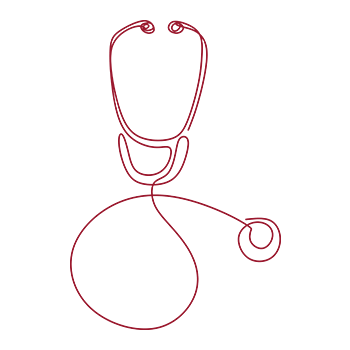 IN KEEPING CHOLESTEROL UNDER CONTROL, VARIOUS RISK FACTORS MUST BE CONSIDERED, SO AN APPROPRIATE ASSESSMENT IS ALWAYS UP TO YOUR TRUSTED DOCTOR
A healthy diet
the first step towards your well-being
The guidelines for a healthy and proper diet promote the consumption of vegetables, fruit and whole cereals, that is, foods rich in fibre, generally not very well-represented in our eating habits.
Dietary fibres are divided into:
INSOLUBLE FIBRES present mainly in cereal brans, and they act mainly in the regulation of gastrointestinal functions;
SOLUBLE FIBRES such as barley Beta-glucans, which perform numerous beneficial functions for the body, regulating the absorption of some nutrients such as sugars and fats. In doing so, they help control the glucose level and help reduce blood cholesterol. High cholesterol is a risk factor for the development of coronary heart disease.
Barley and Beta-glucans: important soluble fibres
Barley is a cereal whose grain, the caryopsis, is made up of about 80% carbohydrates, of which starch is an important source of energy for the body, while simple sugars are scarce. Dietary fibre (about 10%) is largely represented by soluble fibres, the Beta-glucans. It also contains proteins, B vitamins, and it is also a good source of minerals, especially potassium. Lipids are present in a very low percentage
The strength of barley
The barley caryopsis is covered with an outer hull consisting of several layers that are rich in cellulose and mineral salts. With the pearling process, the outer layers are removed and the endosperm, the heart of the grain, is reached, thus obtaining pearl barley. From the grinding of a particular variety of pearl barley, Beta barley, a flour with a high concentration of soluble fibre Beta-glucans is obtained which, used together with durum wheat semolina, makes it possible to produce a pasta that is rich in precious substances for human health.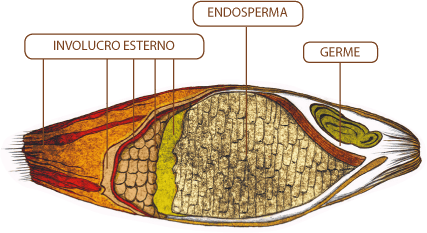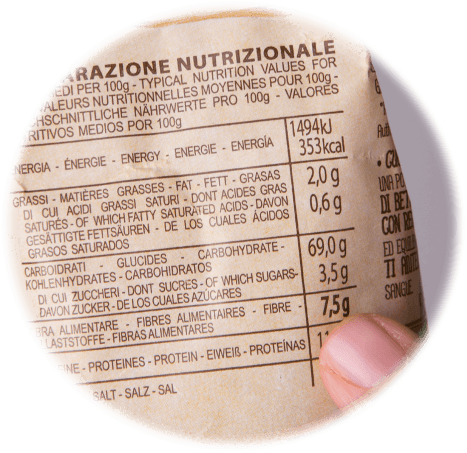 Naturally rich in Beta-glucans
BioGranoro CuoreMio pasta is obtained by selecting the best durum wheat semolina and barley flours with a high content of Beta-glucans soluble fibre. A 100-gram portion of pasta provides 3 g of Beta-glucans which help reduce blood cholesterol and control the glycemic index.
Naturally rich in total fibre
 BioGranoro CuoreMio is also rich in fibre; in fact, one portion of 100 g of pasta provides 7.5 g of total fibre which represents about 30% of the daily requirement, as indicated by the INRAN (National Institute for Research on Food and Nutrition) guidelines.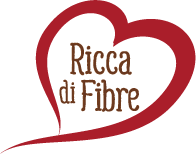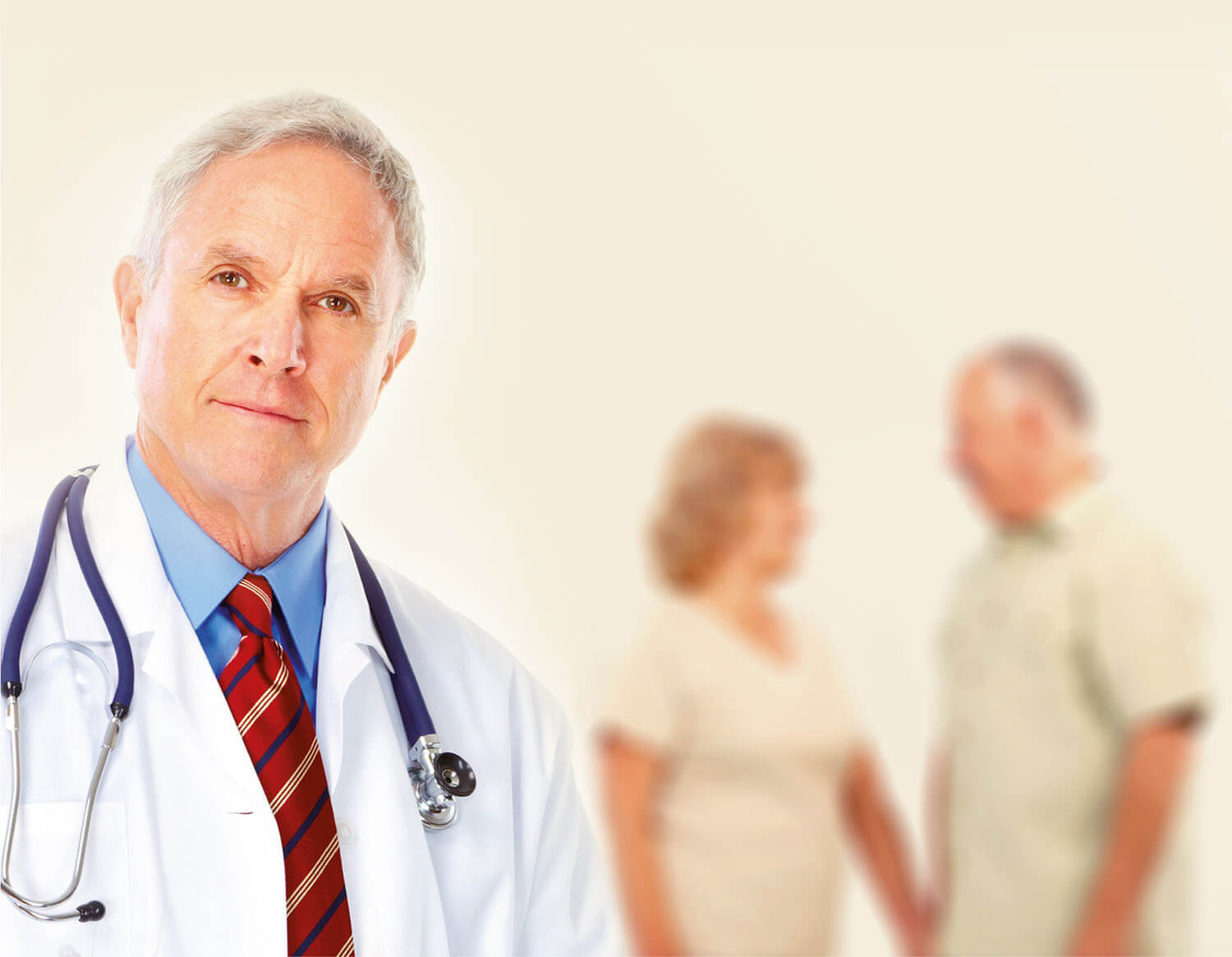 Improving one's health with a varied and balanced diet helps reduce the risk of many diseases and can be as simple as eating a good first course.
In fact, Granoro supports research for the prevention of heart failure after heart attack with the Life Sciences Institute of the Scuola Superiore Sant'Anna in Pisa.
A project that involves the use of pasta as the primary vehicle of antioxidant active ingredients, proposing a healthy and constructive model of nutrition.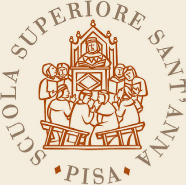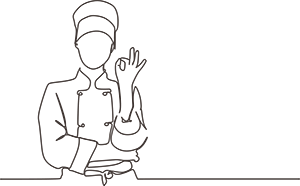 THE "GRANORO BIO CUOREMIO" RECIPES
Find out about all the Granoro Bio Cuoremio recipes, from traditional dishes to the proposals of our chefs. Find out about the perfect recipe for any occasion.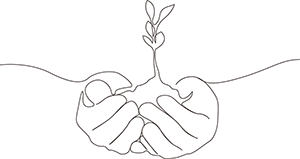 SCOPRI GLI ALTRI PRODOTTI DELLA LINEA
"BIO GRANORO"
Tutti i prodotti della linea BIO Granoro sono totalmente biologici da agricoltura 100% Italiana