The "Granoro Dedicato" legumes of Alta Murgia
are obtained only from legumes from the Puglia Region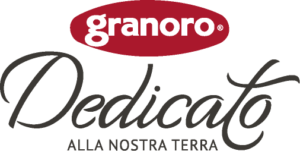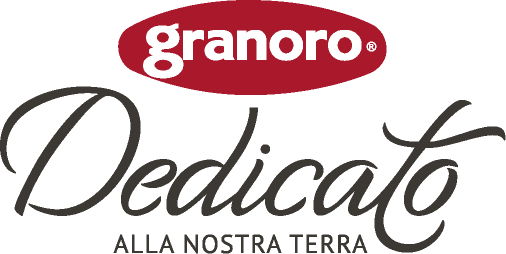 100% Apulian Dried legumes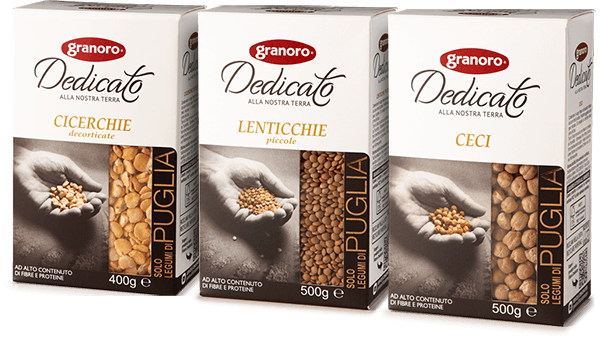 DRIED LEGUMES
With the Dedicato line, Granoro enhances the tradition and authentic flavours of Puglia, rediscovering and supporting the production of legumes grown in the Alta Murgia area with the aim of preserving the peculiarity and biodiversity of this land, defending a heritage of flavours and culture that the land of Puglia preserves.
In the past, legumes were considered "the meat of the poor", present above all on the tables of the less well-off families, today they have been re-evaluated as products to be protected and brought back into our diet thanks to their nutritional characteristics.
Granoro proposes age-old varieties of Apulian legumes, including Chickling Peas, Chickpeas and Lentils.
DEDICATO CHICKLING PEAS
The Chickling Pea is an ancient legume, well-known already in ancient Egypt for the preparation of soups and focaccia. Today it is being re-evaluated for its good nutritional properties. It is well suited to being grown in the Alta Murgia area, even in poor and difficult soils thanks to its resistance to drought but also to low temperatures.
It is a specialty with an irregular shape, with a delicate and particular taste, halfway between the chickpea and broad beans.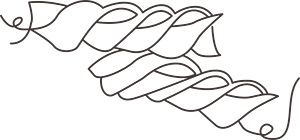 SCOPRI GLI ALTRI PRODOTTI DELLA LINEA
"GRANORO DEDICATO"
Tutti i prodotti della linea Granoro Dedicato sono di qualità Certificata e Tracciata dal campo alla tavola 100% Puglia